Super Grade Organic Goji Berries, Ningxia Goji Berries
Product Description
Model NO.: ZQY008 Drying Process: Natural Drying Size: 180-900 /50g Specification: SGS /BCS / HACCP HS Code: 1211903100 Type: Wolfberry /
Goji Berry
Color: Dark Red Trademark: ZQY Origin: Ningxia, China In the traditional Chinese medicine herbal book, the goji berry is a very important herb. Chinese doctors often use goji in the Chinese medicine formula to balance and strengthen the body.
Goji Berries
are not only extremely beneficial for the health, but they are sweet, delicious to eat and not as expensive as other nutritional supplements. This is why goji berries are very popular and have been used for thousands of years.
In China, as goji berries are known for their great anti-aging effects they are bought for their older friends or family as a gift.
1. Health benefits of goji berries
1)Strengthens the kidneys and anti-aging effects
Many traditional Chinese medicine text books mention that goji berries taste sweet and strengthen the kidneys. We suggest that if you have any of the symptoms mentioned above or to prevent aging you can eat goji berries regularly, starting to eat from middle age onwards. Goji berry porridge is a great dish to eat. Please see the recipe below.
2) Benefits the eyes
Goji berries also act on the liver. Generally the liver sends energy and nutrition to eyes to support its function. In my experience in my clinic, most eye disorders are associated with a liver deficiency. These people usually have the following symptoms, dry eyes, tired eyes, blurry vision, pain and burning sensation around the eye. I suggest that if you have any of these symptoms, whilst you are undergoing treatment you can eat goji berry chrysanthemum tea. You can also drink this tea regularly to prevent eye disorders. Please see the recipe below.
3) Beneficial for tight joints
Regular eating of goji berries can help bones and tendons, and reduce or prevent tightness in joints, joint pain, weak knees. Chinese medicine considers tendons and joints are dominated by the liver and kidneys, as goji berries are beneficial for the liver and kidneys they are able to improve conditions in the joints, tendons and bones. Eating goji berries regularly can prevent bone or joint disease. You can eat beef bone soup with goji berries. Please see our recipe below.
4) Other health effects
Modern medical science has discovered benefits of goji berries help reduce blood sugar and can aid regeneration of liver cells and reduce cholesterol in the liver. Goji berries are therefore beneficial for those with diabetes, liver disorders, and high cholesterol. Taking goji berries for a long period of time can help to build up the immune system and fight diseases.
2. Recipe
1) Goji berry porridge
This is a very delicious and easy breakfast. After cooking your porridge you add 1 tblsp of goji berries and stir. It is now ready to eat.
Effects: Anti-aging, increase energy and immune system. This is suitable for those with kidney deficiency.
2) Goji berry and chrysanthemum tea
1 tblsp of organic goji berries
7 chrysanthemum flowers
2 cups of boiling water
Mix all ingredients and let brew for 5 minutes. The tea is now ready to drink slowly. Effects: Benefits the eyes, prevent or reduce symptoms of eye disorders
3) Beef bone soup with goji berries
0.5 kg beef bones with meat
2 tblsp goji berries
10 cups of water
Boil the bones, clear the top of the soup and simmer for at least 3 hours on a low heat. When the soup is ready to eat add goji berries. You can add any vegetable to this soup.
Effects: Loosens and smoothes joints.
Goji berries are usually bought as a
Dried Fruit
. They can be eaten as they are or added to many dishes. You can eat the recipes above 2 or 3 times a week to help improve your condition.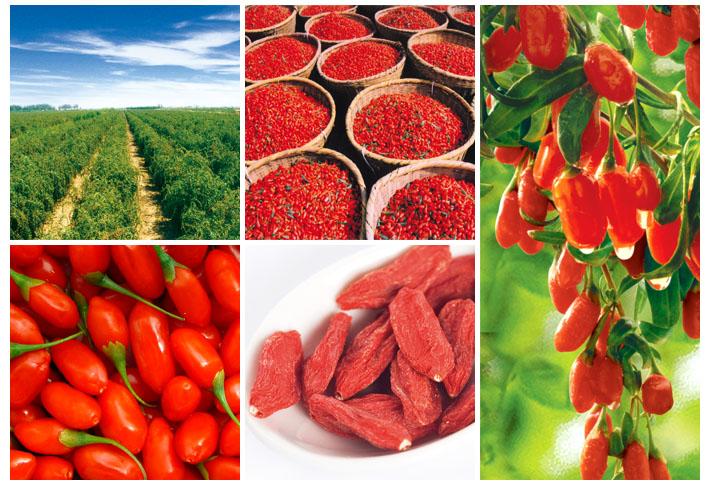 Contact us if you need more details on Goji Berry. We are ready to answer your questions on packaging, logistics, certification or any other aspects about Wolfberry、
Organic Goji Berry
. If these products fail to match your need, please contact us and we would like to provide relevant information.
Product Categories : Dried Fruit